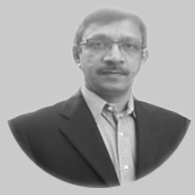 Balan
As COO, Balan holds responsibility for Digitech's and S2 Integrators Customer Excellence focused business design and growth. He has built a robust and passionate Digital ecosystem of Business Consultants, Technical SMEs, Start-ups and Partners to deliver a distinctly differentiated Customer Experience.
With 25+ years of experience in the IT industry, he has held roles with responsibility for Profit Centers, Organizational Growth, Business Excellence & Turnaround, Customer Relationships, Process Excellence, Program Delivery and Strategy.
In his last stint as the Region Head of Pacific Northwest for Tech Mahindra he was responsible for overall strategy, operations and business growth. As part of the Leadership team, he directly led the BFS, Healthcare, Manufacturing, Travel & Logistics and Public Sector verticals in the region. Prior to this role, he was the Global Head covering the 360° relationship with Microsoft.
He has held Management Consulting, IT Delivery Management, Business Head and Six Sigma Leader roles during his tenure with Satyam Computers and as Head of Strategy & Quality with Keane prior to that.
Balan holds a master's in technology business management besides being a Process Management Consultant and Six Sigma Black Belt.