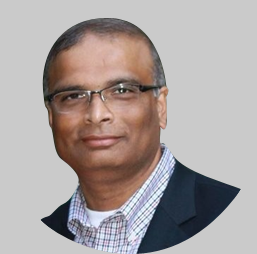 Anil Reddy
For a venture that seeks to reposition Systems Integrator role for the digital era, Anil brings together a unique blend of curiosity and experience to further the value mission of Digitech Labs.
Having held strategic leadership positions in some of the game changing corporations like Microsoft, Target, PepsiCo and Tatas, he's been instrumental in forging strategic partnerships with companies like Samsung, Wipro, TCS, Fortis, Amazon and Rackspace to name a few.
His specialization around digital transformation comes from his varied roles in Microsoft Cloud & Enterprise division. Anil has done his full 360 working across multiple functions withing Microsoft, and can truly be categorized as "Born in the cloud".
As the global lead for Microsoft's cloud Infrastructure, Strategy and Capacity acquisition(s) wherein he was responsible for managing the portfolio and driving strategic relationships with reference to Cloud infrastructure across the Globe.
Anil was the Chief Strategy Officer for India, heading the executive staff for Cloud and Enterprise division, business management and strategic partnerships based in Redmond. Anil was responsible for refining Windows Azure and Microsoft Cloud Strategy apart from assisting the leadership team to drive a customer-focused approach for building and delivering services to customers. He can also be categorized as a subject matter expert for IOT and advanced data analytics.
Anil started his career approximately three decades ago with the Tata Administrative Services, before moving on to the US where he held senior positions in PepsiCo and Target Corporation. He was later to join Microsoft.
Anil is a graduate in the field of Public Administration and holds post graduate degrees in Management and Computer Applications. He has also enhanced his knowledge by partaking in advanced marketing and business coursework in Kellogg School of Management.